Recreational Jewellery Making
From absolute beginner to more experienced maker.
Maximum of five students per group.
Classes can cover all basic bench skills, casting, enamelling, etching, beginners stone setting, press forming and more.
If you are new to working with silver we will start with the basics – soldering, piercing out, riveting etc. Classes are designed to move at a pace that suits you, and as you gain confidence more skills are introduced.
The small class size means lots of one-to-one tuition from experienced, qualified teachers, and a friendly, fun atmosphere to learn in.
£300 for a 12 week term
Monday evening 6-9pm with Tony Sanders
Tuesday evening 6-9pm with Emma Leonard
Wednesday evening 6-9pm with Tony Sanders
Thursday evening 6-9pm with Emma Leonard
Alternate Thursdays 10am-5pm (with an hour for lunch) with Emma Leonard
There is a waiting list for spaces on the 12 week terms of classes – if you would like to join in then please get in touch. The best way is to email (emma@emma-leonard.co.uk).
Weekend Workshops
A workshop voucher makes a great gift, or a chance to try out a new skill for yourself. The one day beginners workshops are suitable for someone with no previous experience, and make a great introduction to silversmithing – with a fantastic finished piece to wear home! Please note if you are booking using a gift voucher you will need to contact me directly rather than book online. There has been a slight price increase this term – if you have a gift voucher dated before August 2021 then the previous class prices will be honoured.
Silver Clay Inspired by the Seashore with Grainne Reynolds (Times to Treasure)
One day workshop 10am-5pm £85 (+£25 materials)
Sunday 29th May
A lovely workshop suitable for beginners or those with some silver clay experience who would like to develop their skills and knowledge. In this workshop you will learn how to build a piece of jewellery using various different techniques and elements including…
How to use pre made moulds to create tiny shell elements.
How to sculpt a sea foam texture.
How to syringe set a sparkly cubic zirconia.
How to create small pebble elements.
You will learn how to put all of the above together to create a beautiful seashore themed piece of jewellery which will be kiln fired, polished and patinated.
Material fee £25 payable to Grainne on the day of the workshop, this includes 10g silver clay, 2-3 small sparkly cubic zirconia, use of silver clay syringe. A selection of sterling silver chains and ear wires will be available as an optional extra at additional cost.
Make a Spinner Ring – great for beginners.
One day workshop 10am-5pm £70 plus materials.
Saturday 16th July
Make a fantastic spinner ring in a day – ideal for complete beginners. In this super-popular class you will learn how to form a ring, solder, texture and polish, use chemical patina, and go home wearing your creation. Use hammers to texture or punches to personalise and add designs. There are so many options for different combinations of textures, spinning bands and finishes, each ring is unique – the only difficulty is making a decision what combination to make!
Materials costs vary on the day depending on the size and style of ring made, but as a rough guide allow approx £15
Make a cabochon stone set ring – great for beginners.
One day workshop 10am-6pm £70 plus materials
Saturday 11th June
Learn how to set a stone and make a beautiful ring in a day. Step by step demos help you to make a ring and set a cabochon stone or sea glass in a simple rub-over setting. A great introduction to stone setting and a way to introduce colour to your jewellery making. Suitable for beginners wanting to make a one-off piece of lovely jewellery, or someone looking add a new skill to their making.
Materials are extra due to the differing costs of stones etc. Both silver and a selection of stones and sea glass are available at the studio (as a rough estimation allow £10-£15 extra for materials). You are welcome to bring your own stone if you have one – we will be working with round or oval stones, just contact me if you have any questions.
Make a bangle – great for beginners!
One day workshop 10am-2.30pm £45 plus materials
Saturday 18th June
Come and make your own bangle in this great beginners workshop. Experiment with hammers to create textures or use letter punches to personalise your work. You will try out a range of basic skills including soldering, forming and polishing. You can use press formers to create wavy or geometric outlines. Choose to make a single bangle or link multiple bands together.
Materials costs vary depending on number and size of bangles being made, but as a rough guide allow approx £30 for a single chunky bangle.
Make your own patterned pendant or earrings – great for beginners!
One day workshop 10am-5pm £70 (plus materials)
Saturday 14th May
A great workshop for absolute beginners. You will be introduced to a variety of basic skills including using a piercing saw, soldering and finishing and polishing. The rolling mill can be used to 'print' a pattern or texture onto the silver and various shapes can be cut and decoration added to make a beautiful simple pendant or earrings. You can also experiment with using hammers and punches to add texture and patterns, and the use of chemical patina. Statement studs, hoops or dainty drops, whichever you prefer!
This is a really creative day with lots of experimenting – you can work at your own pace and make as many pairs as you would like. The silver you use is weighed at the end of the day, but as a very rough guide allow approx £10-£20 for materials.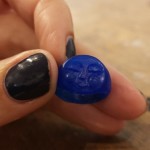 Wax Carving for Casting with Jane Cooper (Hex Cavelli)
One day workshop 10am-5pm £70 (+ approx £40 materials if having wax cast in silver)
Saturday 24th September
I'm pleased to be welcoming back Jane from Hex Cavelli to the studio for an introduction to wax carving for casting. This one day workshop will introduce a variety of techniques to allow you to carve waxes ready to be sent for lost wax casting. A great way to expand your making skills and develop your jewellery designs, lost wax casting offers an opportunity to reproduce forms and produce small batches of work. The class covers a range of sculpting processes, advice on preparing the waxes to send to a caster, thinking about design considerations like weight and sprue positioning and how to finish your pieces after they have been cast.
The class fee covers all tools and wax to work on during the day (there will be plenty of time to experiment and refine your waxes). For an additional £40 payable to Jane on the day of the class your wax will be sent to the caster, finished and polished and returned by post to you.
This class is better suited to someone who has some silversmithing experience and would like to develop a new skill, or a beginner who would like a single finished item (in which case the £40 extra option would be essential).
Make a Spinner Bangle – great for intermediate makers.
One day workshop 10am-5.30pm £65 plus materials
This class is taking a break
Advance your skills and learn to make a beautiful spinner bangle. This class looks at larger scale soldering techniques and uses a dedicated spinner former to create a double layer bangle. With the facility to try roll printing, texturing or stamping on both the inner or outer bangles, and a range of bangle press formers to use there are infinite combinations of finishes to personalise your design. We will also look at traditional anti-clastic raising as part of the making of the bangles.
This workshop would suit a maker with some experience of silversmithing (you will need to have experience of soldering, using files and basic finishing to get the most from the day). Materials are charged by weight on the day – the costs will vary depending on the style of bangle you choose to make, but as a very rough guide allow approx £30. Do contact me if you would like to discuss materials requirements or to bring your own silver to work with.
Etching
One day workshop 10am-6pm £70
Dates to be confirmed – Please contact me for more info.
Experiment with texture, pattern and print in your jewellery designs. Learn how to apply resists and etch metal to create detailed designs. The day includes time to experiment with free hand, paint on resists and also photo etching using PnP paper which allows you to work with any black and white image (patterns, drawings, photos etc).
Fees include copper to experiment on – if you would like to work in silver this can be purchased at cost price on the day at the studio.
This class would suit a beginner who wants to try something new (etched pieces can be turned into a simple pendant for example) or someone with some silversmithing experience who wants to use a new skill in their work.
Gift vouchers are available and can be customised for any occasion – contact me for more details.